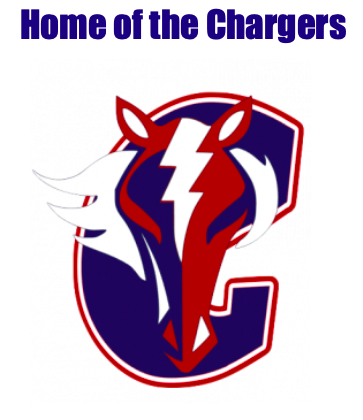 8:25 a.m. to 2:45 p.m.
(Wednesday Early Release 1:45 p.m.)
No campus admission prior to 8 a.m.
Distance Learner Connection
 POA morning messages: I will continue to do the morning messages for our distance learning families each morning. Due to the increased wifi usage at our building, it is taking longer for my messages to upload and thus, send the link to you. By the time it uploads, I am out at arrival and the day is started here. Going forward, I ask that if you want to view the messages and daily annoucements, please subscribe to our channel, Patriot Oaks Morning Messages, so you are automatically notified when the daily message uploads. Today is the last day I will send the direct link.  https://youtu.be/ZND3oFhO4PU
Our School Advisory Council (SAC) is seeking parent and community members for the 2020-2021 school year. Participating in SAC provides an opportunity for parents and community members to get active and involved with Patriot Oaks' school vision and mission through school improvement planning.
If you are interested in participating as a member, please email Allison Tumbelty at: [email protected] .
Meetings will be held the last Tuesday of each month at 3:15pm. 2020-2021 school year meetings will be held virtually until further notice.
Definition of SAC: a diverse group of stakeholders of a school, established through Florida law, with the shared goal of increasing student achievement in a safe learning environment.
Thanks,
Allison Tumbelty
Update 9/14/20 
If your child is interested in trying out for boy's baseball through SJMSAA. Our school volleyball team tryouts for both middle school boys and girls are next week. Please email Cynthia Bean or Michelle Hiett for details. 
 Fall pictures: For our Brick and Mortar students, pictures are this Friday and a flier has gone home for you to order pictures. For our Distance Learners, your pictures are scheduled for October 28. As we get closer to that date, we will send out a schedule and the flier for ordering. 
Please be sure your child comes each day with a water bottle. We have fillers but they need a bottle. 
Food & Nutrition Services News
Posted on September 9, 2020
The U.S. Department of Agriculture extended waivers allowing students a breakfast and lunch option available at no cost. The meals available at no cost are the posted school lunch and breakfast menu. A la carte items are not included as part of the no cost meals. A la carte items will continue to be available for purchase. Meals are also available for pick-up at all schools for anyone 18 years old or younger. Meals available for pick-up are modified for safety and may not reflect the menu served in the cafeteria. It is preferred that children are present for meal pick-up. If the child/student is not with the parent for meal pick up, USDA requires a form of ID. Valid forms of identification may include, but are not limited to, school identification card, child's passport, government-issued child identification card, or any document proving parent/guardian identity and relationship to the child, such as an adoption decree; doctor, clinic, or hospital record; religious record; or daycare center record. Meal pick-up times are as follows:
Patriot Oaks Academy : 9 – 9:30 am  Pick up outside- Kitchen/Central Receiving location
The program will begin on September 10, 2020. The longevity of this extension is dependent on funding.Meal pick-up times are as follows:
Each school year, our school district produces a Student Code of Conduct for the school year. Grades K-2 received a hard copy in the first day of school folder and it is accessed on our school website for grades 3-8. On page 63 of the booklet, there is a signature page that states that you have read the document and are aware of the contents. We need a signed form returned to school for all students. 
Brick and Mortar: please tear out the form or print the attached, sign it and send it in to your child's classroom teacher or homeroom teacher. 
Distance Learners: please tear out the form or print the attached, sign it and either scan it/take a picture of it. Upload it into Schoology to the classroom teacher or homeroom teacher or send the attachment to their email.
We ask that the forms be turned in by the end of this week. Thank you so much. 
Parent Student Acknowledgement.pdf 
Elementary:

 Please be sure that your child's teacher knows how your child is getting home. Email any changes to both the teacher and Andrea Murphy at the front desk.

Bikers and walkers:

 Parents, meet your children across the street from campus. We will get them settled on their bikes and at their exits and get them to you. Masks need to be worn until students get off campus.

Parent Pick up:

 Elementary

 students are picked up in the red lot (entrance on Long Leaf Pine Pkwy). Please make a sign for your front windshield or use the signage given to you when you join PTO. Please write large and in thick black marker so I can see it! (Remember, I am getting older!:))
Student first name and last name
Grade
Signage is only needed for the red lot.
Middle schoolers and middle schoolers with elementary siblings are picked up in the blue lot (entrance on Islesbrook). Students are instructed to watch for your cars and keep their siblings with them.
In the event of a 

rainy-day dismissal

, please watch your phones as I send out messages about delayed dismissals via text. We will always delay dismissal for lightning. Please opt into my text messages so we can stay connected.
School Supply Kit Distribution Dates: 
The PTO will be distributing supply kits was on August 6, 2020.  Students will not be sharing supplies this year, so you must pick up your kit to take home. The PTO cannot and will not be issuing refunds for kits that are no longer needed. Kits that are no longer wanted or needed may be donated to the school. You must email Stephanie Stewart before August 6th, if you wish to donate your kit, so it can be marked. Please email Stephanie at [email protected]
Please monitor the PTO FB page for announcements or changes to the above distribution schedule. https://www.facebook.com/PatriotOaksAcademyPTO/
Thank you so much to those families that purchased kits. Each kit sends money back to the PTO so that we can support our teachers, staff and students for THIS coming school year.
Kindergarten Supply List
1st Grade Supply List
2nd Grade Supply List
3rd Grade Supply List
4th Grade Supply List
5th Grade Supply List
Middle School Homeroom List
How Students Log In to Schoology

Loading…
Updated information from District
School Board Representative
Beverly Slough, District 1 representative to the St. Johns County School Board, writes periodic updates for parents and others concerning school district matters. 
District Mission Statement
The St. Johns County School District will inspire good character and a passion for lifelong learning in all students, creating educated and caring contributors to the world.
Distance Learning Presentations
Parents are invited to watch the following presentations to find out what school-based distance learning will look like for elementary and secondary students.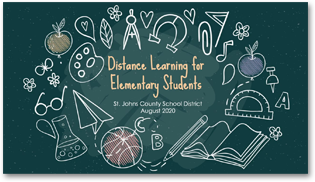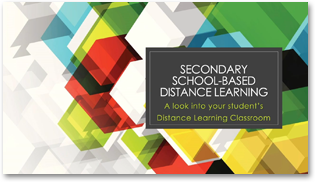 Additional Videos & Presentations
Important Documents
ESE Parent Advisory Meetings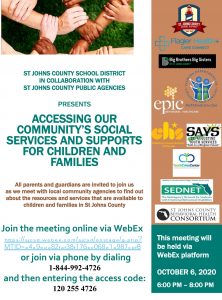 On October 6th from 6:00pm to 8:00pm, the ESE Parent Advisory will welcome the St. Johns Behavioral Health Consortium for a virtual discussion titled "Accessing Our Community's Social Services & Supports for Children and Families in 2020/2021." Join the meeting online via WebEx or join via phone by dialing 1-844-992-4726 and then entering the access code: 120 255 4726.
This is just a reminder that anyone (parent, guardian, friend, neighbor, aunt, uncle) must have school access to attend an event at Patriot Oaks Middle School, have lunch with a student and/or attend an awards assembly. If you have not already done so, please complete the School Access Form. The process for approval may take up to 4 weeks, so please fill out the application sooner than later for any guests that would like to have school access. Once the application is approved, school access will be valid for three years.
FortifyFL is a website and app developed at the direction of the Florida Legislature. Any student, educator, parent or member of the public can report school safety concerns directly to law enforcement and school administrators anonymously and easily through the FortifyFL app or getfortifyfl.com.