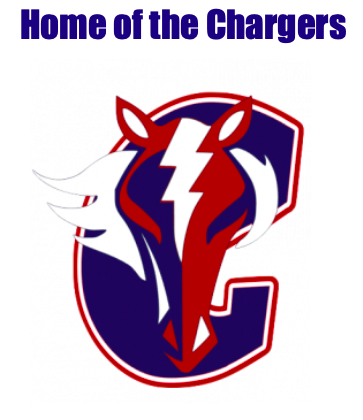 Checking Your Child Out of School?
Please do not plan on checking out your child after 2:15 p.m. M,T, TH, F and after 1:15 p.m. on Wednesdays.
8:25 a.m. to 2:45 p.m.
(Wednesday Early Release 1:45 p.m.)
No campus admission prior to 8 a.m.
Wednesday MS Schedule
Middle School Wed Bell schedule:
8:25-9:00

(HR 8:25-8:30)

1st Period

9:04-9:34

2nd Period

9:38-10:08

3rd Period

10:12-10:42

4th Period

10:46-11:16

5th Period

11:20-11:50

A Lunch 

11:54-12:24

6th Period

11:20-11:50

6th Period

11:54-12:25

B Lunch

12:28-12:55

7th Period
Families, with this new schedule, early releases for appointments need to happen prior to 12:20. 
Have a great Wednesday Chargers!
Wednesday Elementary Lunch Schedule
Wednesday only schedule, elementary:
Kindie: lunch 10:0-10:30, recess 12:10-12:30
1st grade: lunch 10:05-10:35, recess 10:45-11:05
2nd grade: recess 10:10-10:30, lunch 10:35-11:05
3rd grade: recess 9:45-10:05, lunch 10:10-10:40
4th grade: lunch 10:40-11:10, recess 12:30-12:50
5th grade: lunch 10:45-11:15, recess 11:25-11:45
Families, with this new schedule, early releases for appointments need to happen prior to 12:20. 
Have a great Wednesday Chargers!

Loading…
Distance Learner Connection
 POA morning messages: I will continue to do the morning messages for our distance learning families each morning. Due to the increased wifi usage at our building, it is taking longer for my messages to upload and thus, send the link to you. By the time it uploads, I am out at arrival and the day is started here. Going forward, I ask that if you want to view the messages and daily annoucements, please subscribe to our channel, Patriot Oaks Morning Messages, so you are automatically notified when the daily message uploads. Today is the last day I will send the direct link.  https://youtu.be/ZND3oFhO4PU
Honor Roll Card Discounts
November 2020
October 2020
September 2020
August 2020
Bikers & Walkers
Parents, meet your children across the street from campus. We will get them settled on their bikes and at their exits and get them to you. Masks need to be worn until students get off campus.
Parent Pickup: Elementary
Please be sure that your child's teacher knows how your child is getting home. Email any changes to both the teacher and Andrea Murphy at the front desk.

Elementary

 students are picked up in the red lot (entrance on Long Leaf Pine Pkwy). Please make a sign for your front windshield or use the signage given to you when you join PTO. Please write large and in thick black marker so I can see it! (Remember, I am getting older!:))
Student first name and last name
Grade
Signage is only needed for the red lot.
PP: Middle Schoolers & Siblings
Picked up in the blue lot (entrance on Islesbrook). Students are instructed to watch for your cars and keep their siblings with them.
Rainy Day Procedures
In the event of a rainy-day dismissal, please watch your phones as I send out messages about delayed dismissals via text. We will always delay dismissal for lightning. Please opt into my text messages so we can stay connected.
Kindergarten Supply List
1st Grade Supply List
2nd Grade Supply List
3rd Grade Supply List
4th Grade Supply List
5th Grade Supply List
Middle School Homeroom List
How Students Log In to Schoology
Updated information from District
School Board Representative
Beverly Slough, District 1 representative to the St. Johns County School Board, writes periodic updates for parents and others concerning school district matters. 
District Mission Statement
The St. Johns County School District will inspire good character and a passion for lifelong learning in all students, creating educated and caring contributors to the world.
2020-2021 Instructional Materials Adoption for English Language Arts (ELA)
The St. Johns County School District curriculum department formally announces the review process for the 2020-2021 Instructional Materials Adoption for English Language Arts (ELA). The core resources that have been submitted for evaluation have come from the state adoption bid list and other submitted resources from publishers when available. Additional resources for advanced programs may be reviewed from materials listed as appropriate for the program indicated.
Please visit the instructional materials website to view the resources that are being considered for adoption. If you would like access to any available printed materials or require assistance reviewing the online resources, please call the Instructional Resources and Media Services office at 904.547.3947. Materials are available for review from 8 a.m. - 4:30 p.m.
We encourage parent and community participation in our adoption process. If you would like to serve on a school committee and formally review the resources as a part of the school review team, please contact any school or our office at 904.547.3947.
ESE Parent Advisory Meetings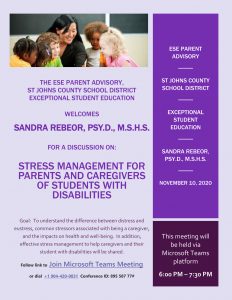 On November 10th from 6:00pm to 7:30pm, the ESE Parent Advisory will welcome Sandra Rebeor, Psy.D. M.S.H.S. for a virtual discussion titled "Stress Management for Parents and Caregivers of Students with Disabilities." Join the meeting online via Microsoft Teams or join via phone by dialing 1-904-420-0831 and then entering the conference ID: 95 587 77#
This is just a reminder that anyone (parent, guardian, friend, neighbor, aunt, uncle) must have school access to attend an event at Patriot Oaks Middle School, have lunch with a student and/or attend an awards assembly. If you have not already done so, please complete the School Access Form. The process for approval may take up to 4 weeks, so please fill out the application sooner than later for any guests that would like to have school access. Once the application is approved, school access will be valid for three years.
FortifyFL is a website and app developed at the direction of the Florida Legislature. Any student, educator, parent or member of the public can report school safety concerns directly to law enforcement and school administrators anonymously and easily through the FortifyFL app or getfortifyfl.com.